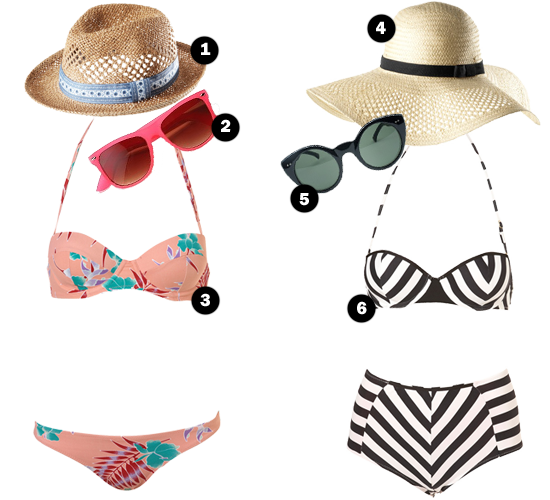 1. Straw fedora via H&M
2.
UO Horizon line sunglasses
3.
Topshop Paradise retro cup bikini
4. Floppy hat via H&M
5.
Pop Killer original cat sunglasses
6. Vintage style bikini via Topshop
Getting ready for even warmer weather, crowded beaches, beach photo shoots?possibly, and a hundred trips to
Lemonade
! Which is my favorite go to spot during the warm season, nothing beats the heat like cold soba lobster noodles and a tall serving of ginger peach lemonade!

Now I'm just making myself hungry!!
I enjoy vintage style bathing suits. High waisted bikinis

and the right amount of stripes to create the right amount of curvy illusions. I also like the tropical Havana style bikinis. Bright colors and patterns are all I need to make my summer

, then it's back to wearing all black during the fall and winter seasons.
I really wish they would build a topshop in cali already so I can possibly, hopefully, find things in my size instead of it being sold out online. Well I guess a well deserved trip to NY is in order this year.